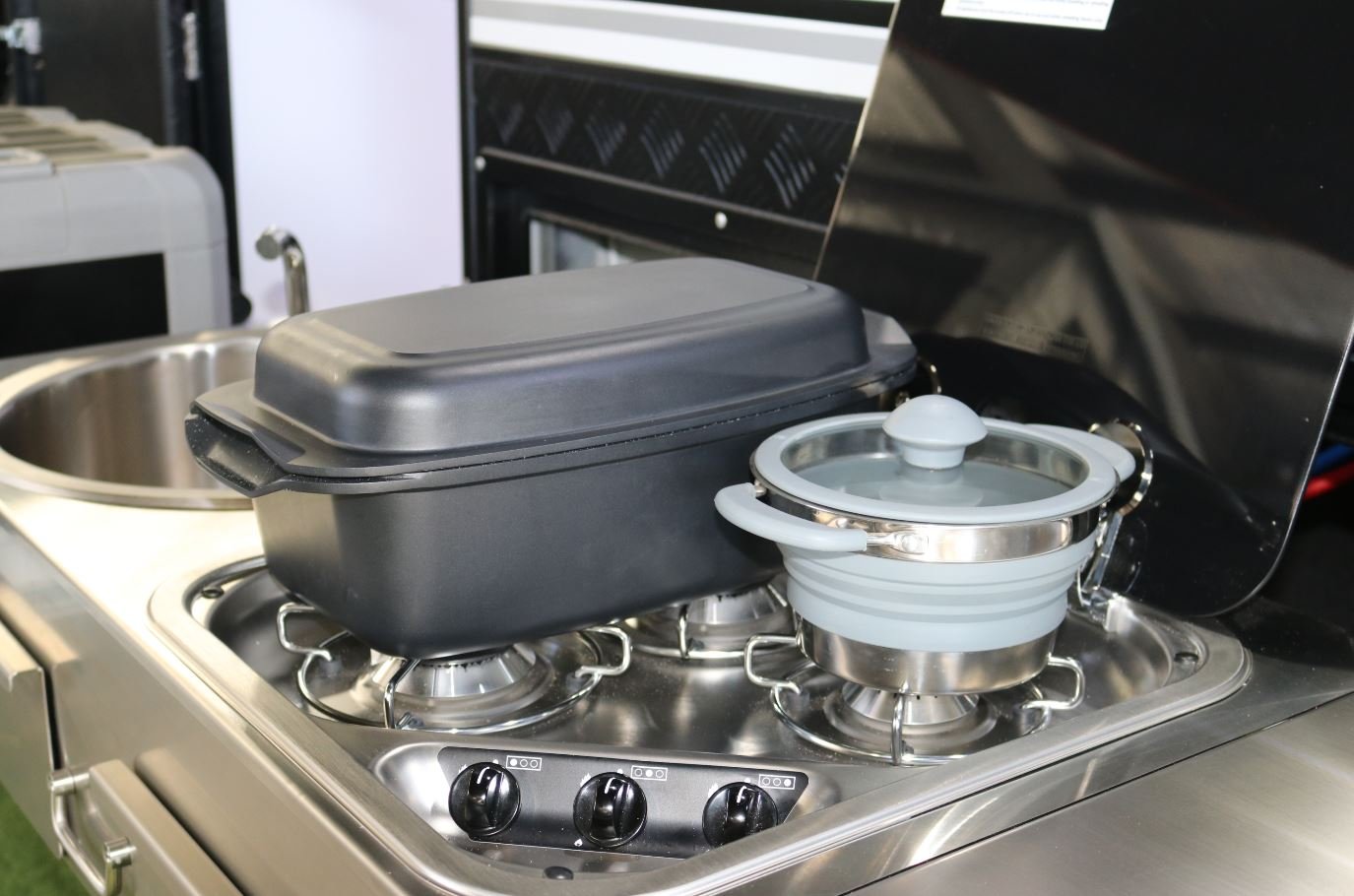 Just because you're going camping doesn't mean you have to live on sausages and bread the whole time
Not to say that I don't enjoy a good sausage sandwich, I just like to mix it up a bit and try something a bit more adventurous!
With a properly set up camper kitchen, you can be as adventurous as you want at mealtimes. You can even cook a full roast for your fellow campers right on your cooktop - so long as you have the right set up and utensils!
A well-outfitted camper kitchen makes your camping experience all the more enjoyable and stress-free. Ideally, everything in the pantry area should be easily accessible and right at your fingertips.
Here at Modcon, we live and breathe campers. Over the years, I've got what we pack down to a fine art. So, here's a quick look at my must-have pantry items.
What to pack in your camper kitchen pantry:
Frypans and saucepans with lids – look for sets that stack easily like Tefal's Ingenio range which has click on/off handles or the collapsible saucepans by Supex. These types of pans allow you to cook and enjoy delicious meals conveniently without having to deal with heavy, space consuming pots.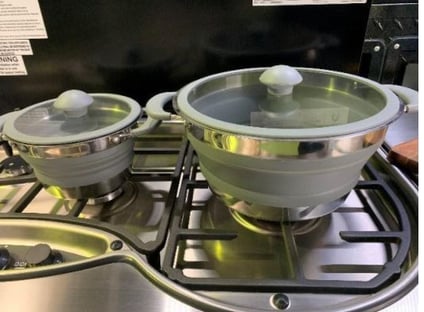 Barbecue lighter and pot mitt
Cooking utensils – spoon, spatula, tongs, bottle opener, sharp knives, marshmallow fork etc.
Cutting board
Cling wrap, foil, zip lock bags, bake paper, serviettes, paper towel
Food saver clips - such as in the image below. These are super handy for preventing your food from going stale in the pantry.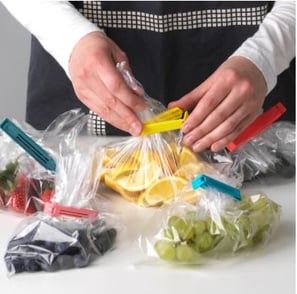 Cooking spray and olive oil
Herbs, spices, stock cubes etc.
Condiments - eg. Vegemite, peanut butter, honey, jam, tomato & BBQ sauce, salt & pepper etc.
Tea, coffee and sugar
Mugs, glasses, stubby holders. TOP TIP - to prevent glasses from breaking when travelling, slide them into your stubby holders to keep them safe and snug
Plates and bowls
Mixing bowls and a colander
Knives, forks and spoons
General cleaning up essentials - garbage bags, dish washing liquid, dish drying rack, pot scrubbers, dish brush, cloths and tea towels.
Dry food - such as pancake mix and syrup, breakfast cereal, rice and pasta
Canned foods - such as baked beans, creamed corn or spaghetti
Nibbles - such as chips, crackers, nuts etc.
On top of all these items, I can even fit in a couple of roasting pans with lids!
You really can pack absolutely everything you need into a Modcon camper kitchen thanks to the clever layout of the pantry. This includes the pantry having an external door which is easily reachable from where the kitchen area is, allowing you to reach into the pantry for ingredients and utensils while you're in the process of cooking.
Organising the pantry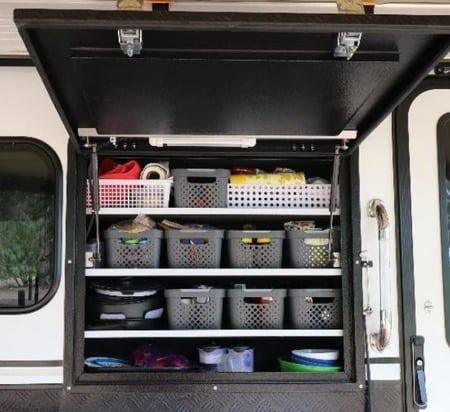 Over the years, I've found that the best way to organise everything in the pantry is to use small storage baskets, making for easy access and less movement when you're out on the road.
Keeping the same sort of items together such as sauces or condiments in different baskets ensures they are easy to find. You can also use labels or different coloured baskets for quick identification.
Square storage containers such as the Sistema Ultra square containers allow you to maximise your use of space. Grains, nuts and flours come in bags and containers of all shapes and sizes, which can be awkward to store. Pour them into clear plastic storage containers instead so you can see what is in each one and only take how much you need for each trip.
PRO TIP – Making a meal plan can ensure you don't over pack and also minimises waste.
How to get the most out of your camper stove top
A well set out stove top with room for your pots and pans is a must.
The burners on a camper cooktop should have enough space between them to allow you to have a pot or pan on each one at the same time. Just because a camper stove top has 3 or 4 burners, doesn't necessarily mean you'll be able to use all of them at once. If the burners are too close together it can be tricky to place your pots and pans properly on the burners.
Take a look at the photo below of one of our Modcon campers. As you can see, we've been able to fit 2 large roasting pans on the stove - one on the large burner and one straddling the other 2 smaller burners.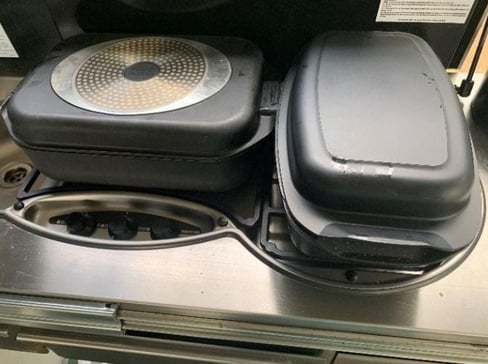 Before you head off in your camper, experiment with cooking on the stove top at home so you can get used to it and what pots and pans are able to fit.
Having the right sized pots and pans can mean the difference between a relaxing or a frustrating camp cooking experience. Try to have a mix of small and large pots/pans. As we mentioned above, stackable ones are the best way to go so you can maximise your pantry storage space.
Now, it's time to get cooking!
So, with your pantry and stove top sorted, the world is your oyster. You can cook up a gourmet feast of baked brioche French toast with raspberries or just take things easy with a one pot Italian pasta dish.
Here's some camper cooking tips on the house: go a little adventurous with your morning bacon and eggs and add some baby spinach, cherry tomatoes, salad onion and feta.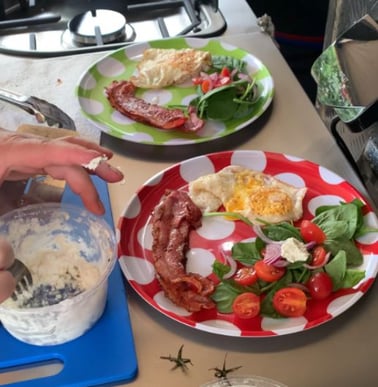 Or try my recipe for Easy Mix Pancakes. They are an absolute breeze to make when you're holidaying in a camper and you'll have everyone coming back for more.
Easy Mix Pancakes
1 cup self raising flour

¼ cup custard powder

1 tbsp sugar

1 cup milk powder
Mix together and store in an airtight container in the camper pantry until needed.
To make up the batter when you're ready to cook, add approximately 2 cups of water to make a good batter consistency.
Heat a non-stick frying pan over medium heat. Grease the pan with butter or spray with cooking oil. Using 1/4 cup mixture per pancake, cook 2 pancakes for 2 minutes or until bubbles appear on the surface. Turn and cook for a further 1-2 minutes or until cooked through.
Want more cooking inspiration? Check out our camper cooking videos on our YouTube channel.