But what do you need to take with you when you go beach camping with an off-road camper? It's not quite the same as staying in a caravan or holiday park. There's a bit more preparation needed. But trust us, it's more than worth the effort.
Let's take a look at a checklist of things you'll need to think about and get sorted before you hit the road.
Reaching the beach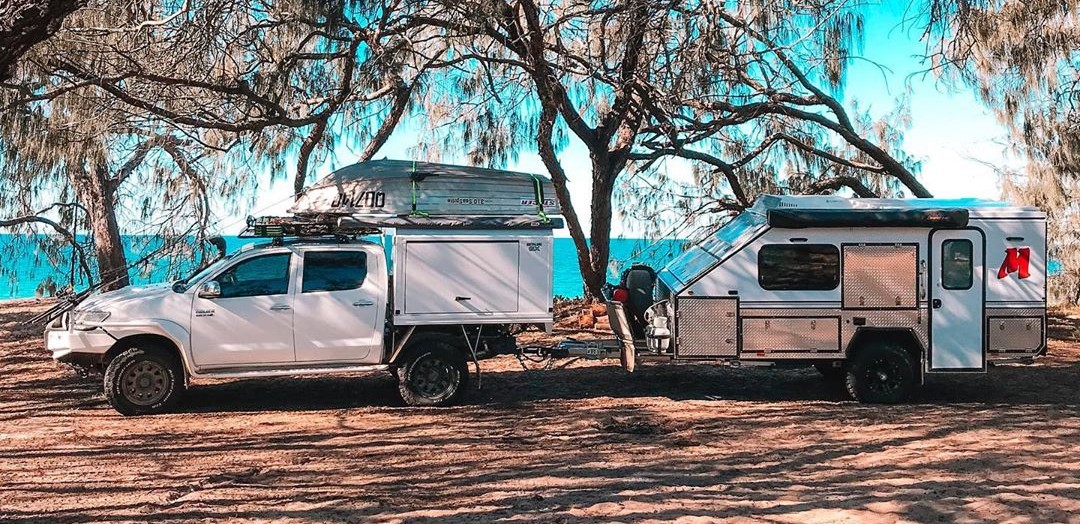 First things first, if you're going to be doing some beach driving to get to your campsite, you need to ensure that your vehicle is beach ready and 4WD drive capable. Additionally, there are a few recovery items that you shouldn't leave home without.
Here's a list of the must-haves:
Tyre deflator (you will need to drop your tyre pressures if you are beach driving, especially on soft sand)
Air compressor
Snatch strap, shackles and dampener
4x4 recovery tracks (e.g.

MAXTRAX

)
Shovel
Tyre repair kit
Beach access permit
If you've never driven on sand before, be aware that it's not like driving on a normal road, especially if you are towing an off-road camper. It pays to do some research online and ask friends or family who have done it before to get some advice. It is also worthwhile taking a few practice drives on sand in your 4WD (sans camper) so you can get used to it before hitching up the trailer.
Plan your route thoroughly
Before you take your vehicle and camper onto the sand, it's really important to be aware of tide times. You should also look out for potential washaways. You only have to type "Rainbow Beach car wrecks" into Google to see why!
It can also sometimes be tricky to get up off the beach once you've reached your campsite, especially with a camper on the back. So if you're not travelling with friends that can snatch you up or winch you up if you get stuck, you might need to plan a different route.
One of our favourite places to camp is Main Beach on Stradbroke Island. There have been a few times when we've had to be winched up the last little bit getting off the beach into the campsite because the cut outs have been so badly eroded. But had we taken an earlier cut out, there are inland tracks that we could have taken instead.
PRO TIP: We like to use WikiCamps Australia when researching campsites. It's great to be able to see reviews, tips and photos from fellow travellers before deciding if a campsite is going to be easy or difficult for you to reach with your camper.
Also, a quick note to the uninitiated: if you are travelling to a sand island where the barge delivers you straight onto the beach, such as Moreton Island, be sure to drop your tyre pressures whilst on the barge. There's nothing more embarrassing than getting yourself bogged in front of the barge whilst a crowd of holiday-makers looks on!
Packing the essentials
Apart from taking all the normal camping necessities such as a fridge, food, drinks, camp chairs, bedding and kitchen utensils, there are a few specific extras that we recommend for a beach camping trip in an off-road camper
Sand pegs
Mesh floor mat: Helps to keep all the sand out of your camper and annexe.
Sufficient drinking water: You probably won't have close access to treated drinking water when beach camping.
Firewood: Always check that fires are allowed where you are going to camp, especially in national parks. You must extinguish your fires completely using water each time you leave your campsite. You can't just fill in the campfire with sand because it will continue to burn and can lead to unexpected burns if you or someone else walks over the fire pit when it hasn't been properly extinguished.
Mosquito repellent and sunscreen
Solar panels or a generator: If you're planning an extended stay, you'll need these to charge batteries, lanterns and your electronic devices. There's no powerpoints at the beach!
Camping permit: You will need to book this in advance, especially during peak holiday times.
Beach umbrella/shelter/hat: There's nothing worse than a nasty case of sunburn when you're camping at the beach.
Separate beach and shower towels: Beach towels get scratchy and stiff from all the salt and sand. Keep a nice fluffy towel separate for when you take a fresh water shower.
Fishing gear.
Frisbee/football/cricket set.
Bucket, spade, beach toys and bags for collecting shells
PRO TIP: In relation to mosquito repellent, we actually favour Thermacell butane powered mosquito repellent units. They work extremely well without the need for greasy sprays or smelly coils. Just turn the unit on, sit back and enjoy your sunset beer or wine without getting eaten alive.
Top things to think about before setting up your off-road camper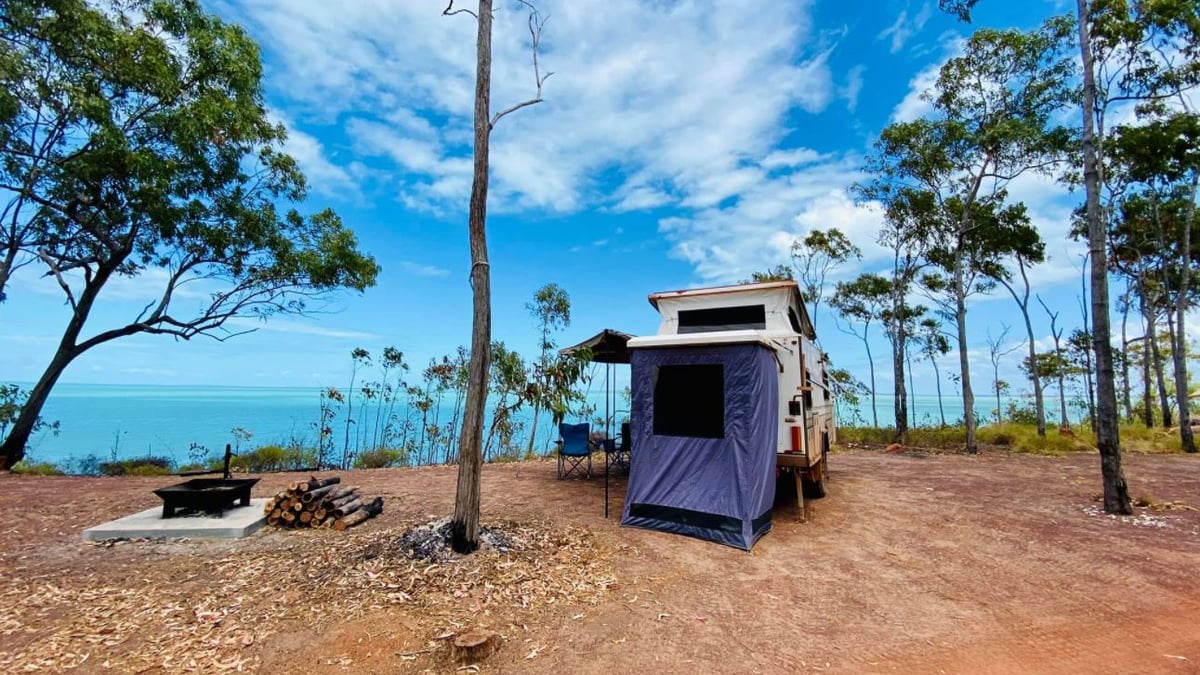 Check the area for animal tracks, if there are lots in the area, you may wish to rethink your campsite or you could risk some unwanted visitors turning up.
How's the view? We all want to wake up to a beautiful view of the ocean, but sometimes that can be to the detriment of your comfort. It's all well and good to have the view, but it's just not worth it if you're going to get blown to kingdom come by onshore winds!
Are you allowed a generator? If not, is there going to be enough sunlight at your campsite for your solar panels? Or is the site surrounded by shady trees? This may not be a problem if you're only staying a couple of days, but if you're looking at an extended stay, it's certainly worth thinking about.
Are pets allowed? We all love our fur babies, but some camp areas don't allow them to tag along. The other thing to keep in mind when taking your furry friends is that your pet may be welcome at campsites, but they may not be welcome everywhere you want to go, such as on hiking trails.
Is there a noise curfew? There's nothing worse than being kept awake by a whole lot of yahoos partying all hours of the night, and you don't want to be one of those yahoos yourself!
PRO TIP: And the last little item to add to your checklist - pack a dustpan and brush in the car so you can brush off the sand as you get in rather than taking the whole beach home with you.
Thinking about purchasing an off-road camper? Talk to the team at ModCon today
Our range of conventional campers and hybrids are engineered to withstand all the harsh conditions our beautiful Australian landscape has to offer, while giving you a comfortable, trouble-free camping experience. They are perfect for grey nomads, young families and
couples alike.

If you'd like to see the level of quality you can expect from ModCon for yourself, visit us at your nearest showroom. We'd love for you to stop by. Click here to get in touch with us today.