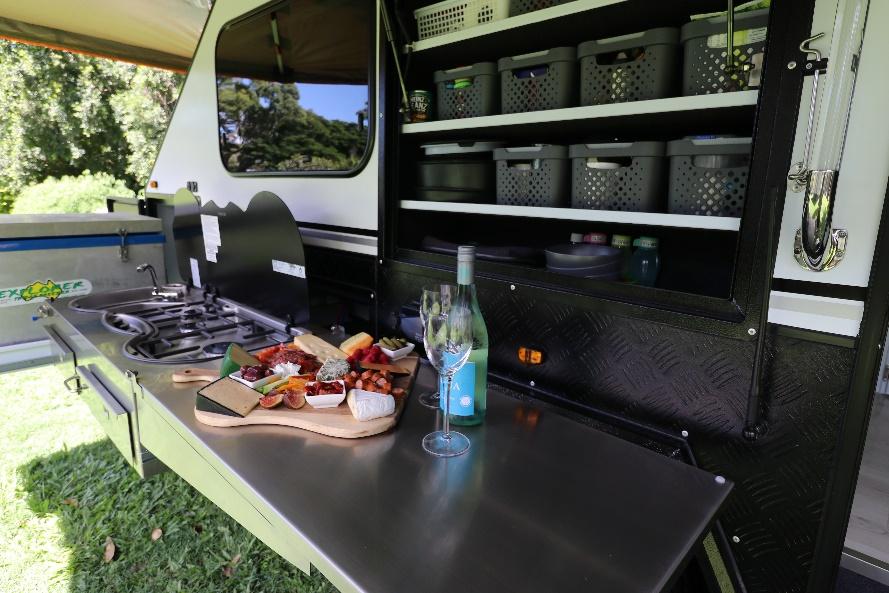 Just as the kitchen is the hub of every home, so is the kitchen in your hybrid camper trailer or caravan. A well-designed camper kitchen with a large, easily accessible pantry is the key to stress-free cooking and enjoyable meal times for everyone.
It's all well and good to have a camper or caravan with a fantastic kitchen set up, but what do you really need to pack for each trip?
When I first started camping, I used to pack everything and the kitchen sink! After returning from those trips having never even touched most of what I packed, I learned to cut down on all those unnecessary items.
So here are my top 10 items for when I'm packing my camper kitchen.
1. Space saving cookware – Collapsible saucepans such as Supex saucepans or stackable ones like Tefal Ingenio saucepans can really save lots of space in your pantry. You'd be surprised at how many kitchen items you can find these days which are stackable/collapsible such as dish drainers, colanders and even kettles. The more space saving cookware you can get your hands on, the more space you'll have in your pantry for other things.
2. Cups and mugs – I use insulated travel mugs because they keep my hot drinks hotter longer and my cold drinks colder. But when it comes to the evening beverage, nothing beats real glass. Just because you're camping doesn't mean you have to drink from plastic cups!
Top Tip : If taking actual glasses with you camping, slide them into stubby coolers for protection during travel.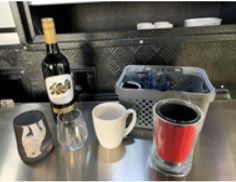 3. Coffee maker – If you're addicted to coffee like me, you can't function without your morning brew. So, I make sure I've got a way of making coffee whether I'm staying at a powered site or off grid. I've tried so many camping coffee gadgets, but because I like a strong mug of coffee, I found most of them a bit fiddly. In the end, I settled on a small pod machine for when I'm at a campsite with power. I slip some milk into my insulated mug and place it next to my coffee machine inside the camper at night so that in the morning I can have myself a sneaky coffee without anyone knowing! When camping off-grid, I use a 10 cup (one cup for me!) stovetop Moka pot which works a treat on the gas stovetop.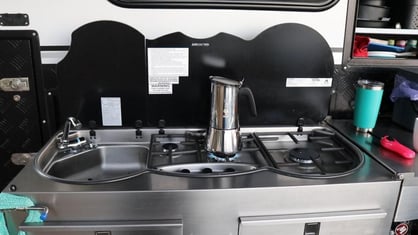 4. Rubbish bin with a lid – Having a lid on the bin keeps smells in and birds and critters out. It's best to not go too overboard with bin size, since in most cases, you'll want to empty it before you retire to bed to avoid attracting scurrying little creatures. I use a 7-litre benchtop bin with a flip-top lid that I picked up from Kmart.

5. Fridge and organisers – A 12-volt fridge is essential! When you're using a chest style fridge, I've found that packing food into rectangular containers (such as the Sistema Click to Seal storage containers) makes it much quicker and easier to find what you're looking for. Another benefit is that your food, especially fresh fruit and vegetables, stays fresher for longer.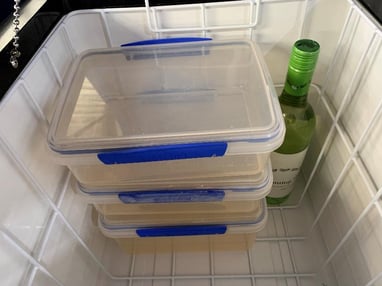 Camping should be relaxing and enjoyable for everyone! Check out our Stress-free Camp Cooking Blog here.
6. Broom and dustpan & brush – The housework doesn't stop just because you're camping, but it does take a lot less time! A broom plus a dustpan & brush is an absolute must for keeping your kitchen area clean and tidy. My son-in-law even takes a cordless vacuum that uses the same battery as his drill to make it even faster and easier to clean up the mess the kids make in the camper and car.

7. Pantry organising bins – Firstly, having a large pantry near your food prep area with everything at your fingertips is a MUST (as with all our Modcon hybrid campers trailers!) But having all of your pantry items in baskets makes it even easier to find everything at a glance. The other advantage is that it makes it easier for short people like me to reach everything because you don't have to reach the back of the cupboard!
8. Collapsible bucket – To save precious room in your camper, look for a collapsible bucket. They're available in most camp stores, Kmart, Bunnings and from time to time in Aldi. If you can find one, a square collapsible bucket is even easier to pack.
Top Tip: My Modcon hybrid camper has an external shower. When camping off-grid in an area where greywater must be collected, I place a collapsible washing basket (with solid sides) on the floor of the ensuite. And the great thing is it can also double as a kid's bath.
9. Microfibre towels - While I'm on the subject of towels…don't forget the bath towels, sheets and pillows, it's going to be a long camping trip without them. Microfibre towels are a great option for cleaning up your kitchen after cooking as they are lightweight, quick-drying and take up hardly any room. Plus, you can rinse them out and use them again and again.

10. Refreshments - Because happy hour just wouldn't be the same without them! To keep my precious cargo safe, I bought a piece of foam and using a hole saw and an electric carving knife, cut out holes to suit each type of bottle I take. This way, my spirit and wine bottles stay safe and snug.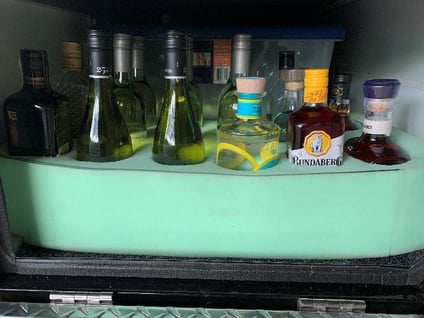 Now it's just a matter of stocking the pantry and fridge with food, throwing in a few clothes, hitching up, and you're ready to hit the road.


Thinking of buying a quality hybrid camper trailer?

Whether touring the outback or just chilling at the beach, our range of hybrid camper trailers are designed to make your camping experience as easy and stress-free as possible.
Check them out at your nearest Modcon RV showroom. We'd love for you to stop by. Click here to get in touch with us today