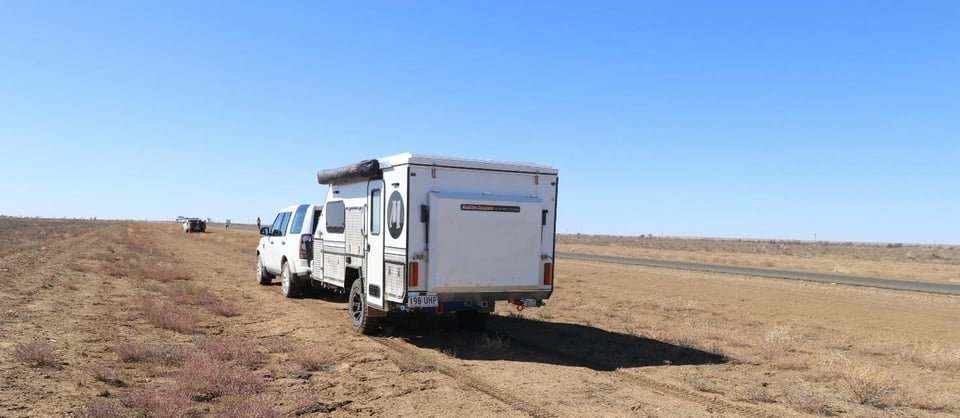 You've decided it's time to take the plunge and buy a hybrid camper trailer and hit the open road!
We've all seen memes about camping that seem to paint the most idyllic of scenarios. So, the question is, how do you make the experience of camping match your expectations?
Before you head out checking out different campers, have an idea of what you're looking for. You can really narrow things down if you have a clear idea of what you want in a camper. When looking for a new camper take the time to think about your -
Must-haves
Would likes
Definitely NOTs!
Bear in mind that what you think is a must-have may not even be a consideration on your partner's radar and vice versa!
But I'm jumping ahead…..
It starts with the car
Without a suitable car to tow your hybrid camper with, you're not going to be heading out into the wild blue yonder at all!
The towing capacity and tow ball rating of your car will have a huge impact on the size and type of camper you can buy. It's all very well that your car has a towing capacity of 2500kg, but if the tow ball rating is only 100kg you are going to be very limited in the make of camper that you can tow given that the typical hybrid camper has a ball weight of approximately 10% of its ATM (Aggregate Tare Mass or total maximum mass permitted).
It can make your decision to buy a camper a very expensive exercise if you have to update your vehicle to be able to tow the model you've fallen in love with.
Make it easy!
Life isn't always perfect, but it does have perfect moments. And camping is just the same, although there are a few things you can do to ensure you get more perfect moments than not.
I've always found that after a long day on the road, a quick and easy setup is what I'm searching for. If you can be totally set up in minutes and can sit down and take in your surroundings with a well-deserved beverage in hand, all your worries will disappear. These are the moments you'll be talking about for years.
Top Tip – For me, one of the most important factors in choosing a camper is whether I can just open up the camper and get into bed at the end of a long day. So, I'd recommend finding a hybrid camper with a bed that you can leave prepared while you're travelling.

What kind of camper are you?
Do you see yourself out every weekend, a different destination each week, a cheeky overnight getaway at the drop of a hat?
Or
Do you dream of long touring holidays experiencing all that Australia can offer, exploring the far reaches of the country, going off-road and off-grid as much as possible?
Or
Do you prefer setting up for extended periods in one spot with your friends and family?
I find this question really limiting because the easier the camper you buy is to set up, the more adventurous and spontaneous you become!
What should you look for?
Can you leave the camper all packed, the beds made and the pantry stocked so that all you need to do is turn on the fridge and fill it, and you're off!


How quick and easy is it to set up, and can one person do it on their own? Ideally, you want to be set up in just minutes, not hours! The less work you have to do to set up the better!


Is the camper robust enough to traverse our outback roads? If you're wanting to take your camper off-road look for a camper with an aluminium frame, they will withstand our rugged outback much better than a camper with a timber frame.


How easy is the camper to tow? Towing a camper that is wider than your vehicle can be very stressful and fatiguing, especially on narrow outback roads. They also have a higher wind resistance affecting your fuel economy, limited visibility down the sides of the camper requiring extended side mirrors for your car and limiting your off-road ability. Ideally, you want a camper with track and body width as close to your car's as possible. The added advantage of this is that you don't need those extending mirrors to see around the camper.


How far does the awning cover? It's all very well to have an easy motorised awning, but if it only covers half the kitchen, it's not going to be pleasant cooking out there! The best awning I've found covers the whole kitchen and even covers the fridge keeping it sheltered from the sun.


Before you sign on the dotted line…
Spend some time with your partner thinking about the following:
Whether there is enough room for both of you? Keep in mind that you will probably be spending most of your time outside. After all, you're staying in a billion-star hotel! But you do have to be prepared for bad weather.


Is the kitchen easy to use, with ample room for both you and your partner and even the kids? Even the closest relationship can become strained if you're constantly tripping over each other!


Is there enough storage for all the things you will need, and more importantly how easy is it to access? There's no point in having lots of storage if you can't get to it!


Is the storage where you need it? It's all very well to have large amounts of storage under the bed, but that won't help you with storage in the kitchen!
Will you be travelling with the kids? If so, where will they sleep? Is there room to store all their gear?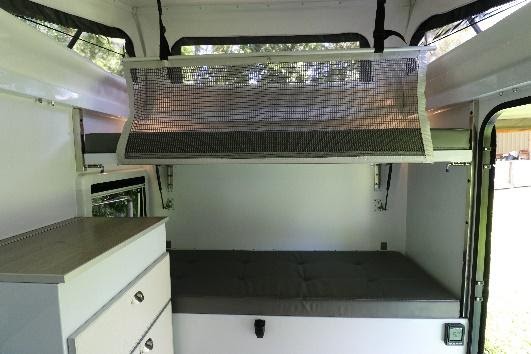 Where to from here?
Thinking about purchasing an off-road camper? Talk to the team at Modcon RV today.
Our range of hybrid camper trailers are engineered to withstand all the harsh conditions our beautiful Australian landscape has to offer while giving you a comfortable, trouble-free camping experience. They are perfect for grey nomads, young families and couples alike.

If you'd like to see the level of quality you can expect from Modcon RV for yourself, visit us at your nearest showroom. We'd love for you to stop by. Click here to get in touch with us today.