We all love getting out camping at Easter! But just because you're camping doesn't mean you can't indulge your taste buds. So, I thought I'd put together some of my favourite Easter – not so healthy – but oh so yummy treats!
Easy Mix Pancakes
My kids have always equated camping with pancakes. We very rarely cook pancakes at home. They're a camping food, probably because when we're camping, we have more time for a leisurely breakfast together as a family.
I used to take the shake to mix pancakes in the bottle, but the way my kids can hoe through a batch of these, I found myself taking upwards of 4 of these for a weekend! Not only was it costing me a fortune, but took up lots of my precious pantry space!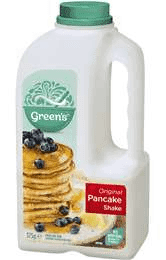 I decided that there had to be a way to have my cake (or pancake) and eat it to. So, I set about perfecting my Easy Mix Pancake mix.
Ingredients
1 Cup Self Raising Flour
¼ Cup Custard Powder
1 Tbs Sugar
1 Cup Milk Powder
Mix together and store until needed
(I find that this mix is best consumed within 1 month)
To make up the batter
Add approximately 2 cups of water to make a good batter consistency (I start by adding around 1 ½ cups so that I don't add too much liquid) – the batter should pour easily but not be too runny. If it's too thick add extra water a tablespoon or two at a time.
* If you want your pancakes thinner, just make your batter a little bit runnier.
Cooking the pancakes
Heat a frypan either over the hob on medium or if you're game over the fire.
Oil the frypan with spray oil, or if you're looking for a more decadent experience use a little knob of butter and smear it around.
Pour batter into the pan to make the desired size of pancake
When bubbles start to begin to form and the bubbles near the edge start to pop, flip the pancake over.
Cook until browned and serve with your favourite topping.
- Maple Syrup and butter
- Nutella
- Jam and cream
Or try mixing in a few chocolate chips or slices of banana or even both together!
Banana and Nutella Croissants
Check out the video and recipe below.
Ingredients
Croissants
Bananas
Nutella
And Butter!
Heading on a road trip for Easter? Modcon have put together their favourite road trip games in our Top 10 road trip games for your camper trailer holiday blog here.
Camp oven French Toast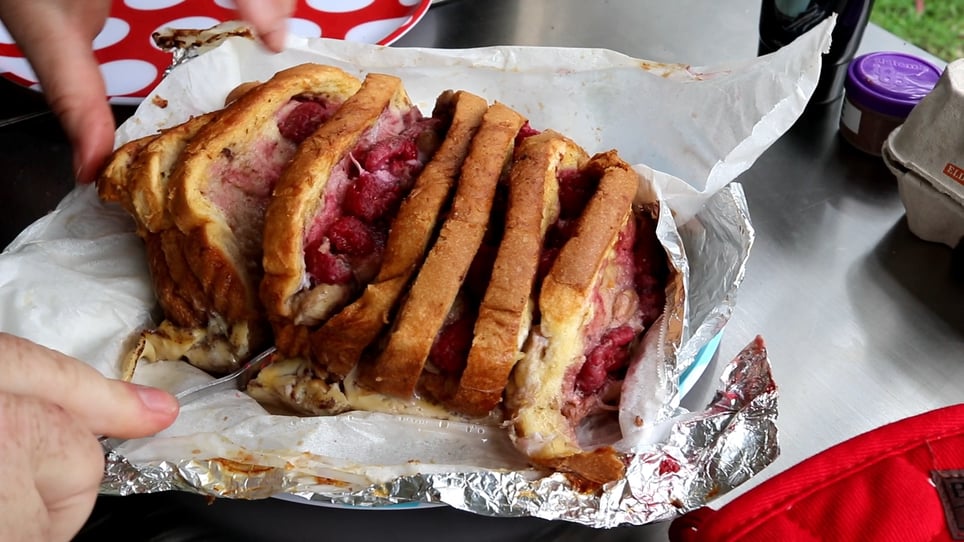 Check out my video here
The fluffy, buttery goodness of Brioche marries so well with the raspberries and banana to make this the most decadent of French toasts! Not only is this recipe scrumptious, but it's a good way to feed a whole lot of hungry people at once!
Ingredients
1 loaf Brioche, sliced
8 eggs
¼ cup milk
1 tsp vanilla
1 tsp mixed spice
1 punnet fresh raspberries or approx. 100g frozen
1 Banana, sliced
Method
Cut a piece of foil and a piece of baking paper approximately 20cm larger both length and breadth than your loaf (larger if possible).
Place the baking paper on top of the foil.
Place your bread in the middle of the baking paper and foil
Fold the sides of the foil and paper up to make a box, folding the end like an envelope. Make sure you allow room for the fruit between the slices of bread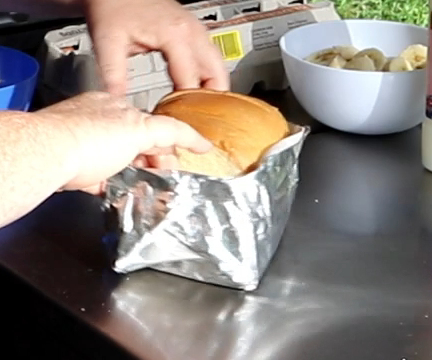 Tuck a few raspberries and slices of banana between each slice
Mix milk, eggs, vanilla and mixed spice together in a bowl
Pour egg mix over bread evenly and place your bread in a camp oven with a trivet. (If I'm cooking this over the stove, I use a roasting pan with a lid with a trivet in it)
Place the camp oven on either the stove or on the coals of a campfire. (If using the campfire also shovel some coals on the lid of the camp oven)
Cook for approx. 40mins
Remove from heat and allow to stand 5 mins
Serve with your favourite syrup – mine's Maple

Baileys Easter Eggs
One of my naughty little indulgences while sitting around a campfire is a nice glass of Baileys. So, what better time than at Easter to take it to the next level!
Ingredients
Baileys Irish Cream – use your favourite flavour
Cadbury hollow Easter eggs – I use the ones in the egg cartons
Marshmallows
Method
Cut the top of the Easter egg off with a knife or an egg topper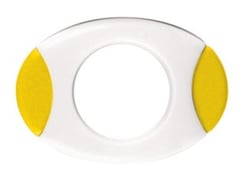 Pour in the Baileys
Toast a marshmallow over the fire and place in the top of the egg.
This is a tipple best scoffed down quickly!
Hot Cross Bun S'mores
Need I say more!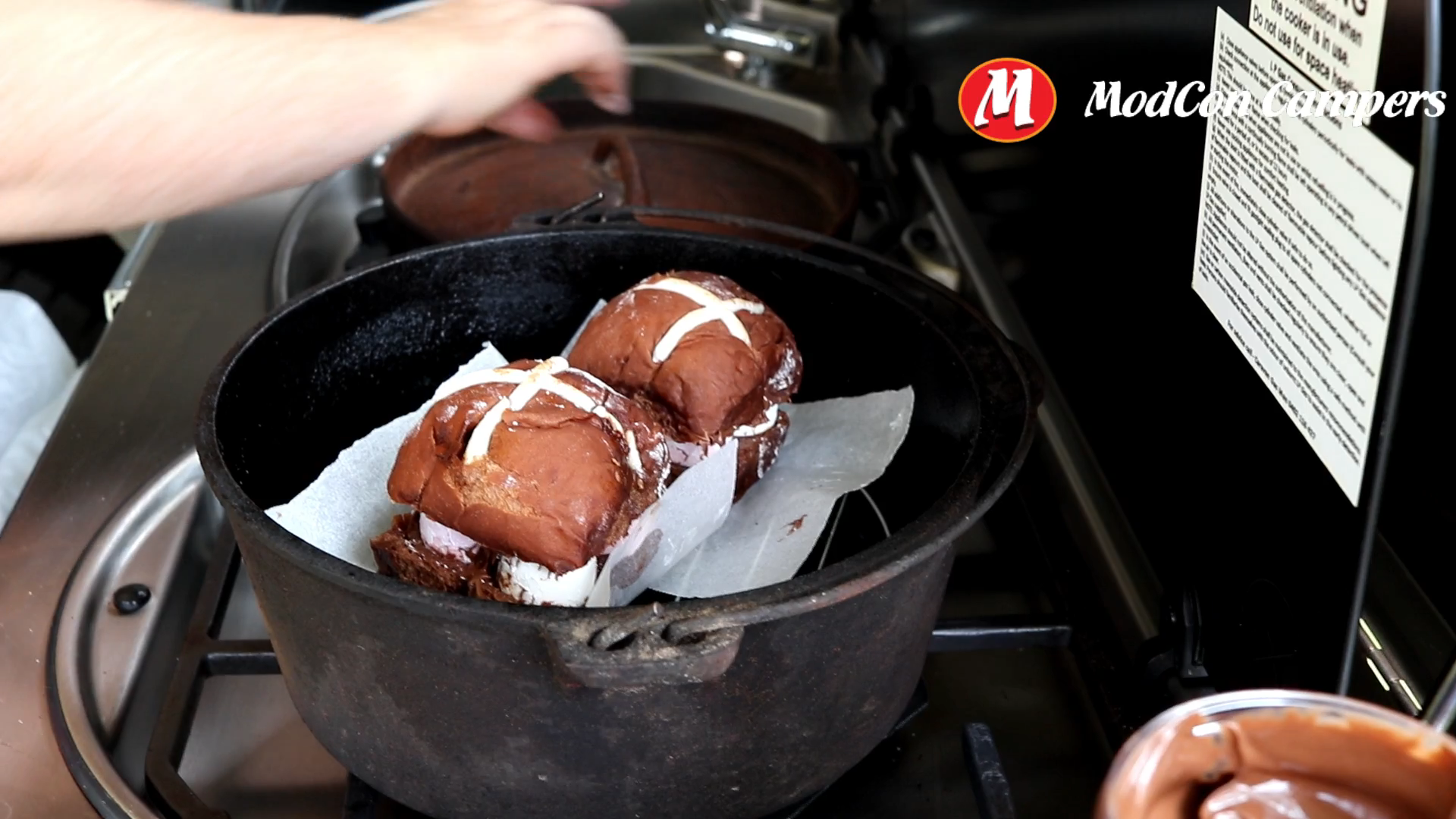 Ingredients
Chocolate Chip Hot Cross Buns
Nutella
Marshmallows
Method
Preheat a camp oven with a trivet either over the fire or on your stovetop with a medium flame.
Slice hot cross buns in half
Spread both sides of the bun with Nutella and place the bottom half on a piece of bake paper.
Place marshmallows on the bottom half of the bun and place the top of the bun over them.
Using the bake paper, place the prepared buns on the trivet in the camp oven and cook until the marshmallows have melted and the bins are toasted, approximately 15mins.
Allow to cool for about 5 minutes before devouring!
No Mess Ham and Egg Rolls
Ok so that's enough chocolate, now to get onto the serious stuff!
Ingredients
Rolls
Ham
Tomato / Sundried tomatoes (optional)
Mushrooms (optional)
Onions (optional)
Eggs
Grated Cheese
Salt and Pepper to taste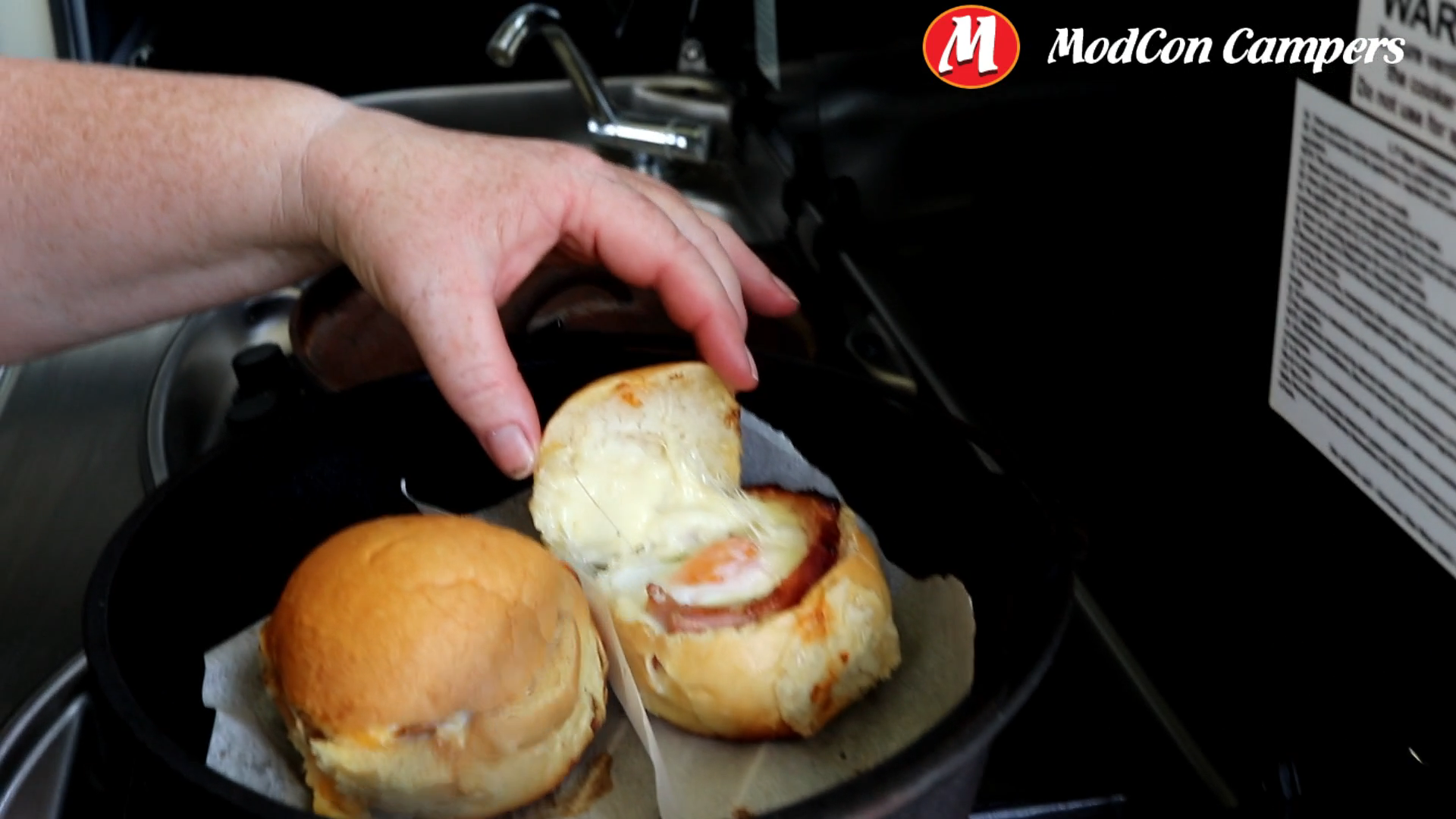 Method
Cut the tops off the rolls
Hollow out the centre of the rolls, making sure not to tear the bottom or sides of the roll
Line the hollowed out roll with slices of ham, making sure there are no gaps
Add any extras such as tomato, sundried tomato, mushrooms, onion etc on top of the ham
Break an egg into each roll
Season with salt and pepper to taste and top with grated cheese.
Place each roll on a piece of baking paper and place in a camp oven with a trivet fitted or a roasting pan with a lid with a trivet fitted.
Cook either over the fire or on a stovetop for 20-25 minutes until the eggs are cooked and the rolls are crispy.
Looking for a Hybrid Camper or Caravan as easy to set up as these recipes?
Modcon RV's hybrid camper and Cruiser caravan range are designed with luxury, comfort, convenience, and durability in mind. Whether you're looking for an easy setup or a gourmet kitchen with an enormous pantry, we have everything you need.